What does an explainer video cost and how is the price of a video made up?
One of the points that plays an important role when choosing an explainer video is simply the price. Certainly, there are isolated companies for which the price plays a minor role, but in our experience, the price is one of the most important factors.
Much like fashion, there is a huge price range for explainer videos. From cheap whiteboard videos for a few hundred euros to high-end products for well over €10,000, everything is represented. The price for a 60-90 second explainer video in Germany is around €2,000 - €5,000.
Your budget is limited? Read our post6 about some of the most popular tools to make an explainer video yourself. The cost of an explainer video depends on your wishes and can vary greatly. Besides the choice of an explainer video provider, the duration of the video is decisive for the price. With longer videos, the price of the video also increases. But we have good news for you: The price does not increase proportionally to the running time of the video, on the contrary: the longer the video, the cheaper the price per second of video. Why is that, you ask? Costs incurred for consulting, briefing and communication are only incurred once for a large project. Ingenious, isn't it?
Want to have an explainer video created at a low price? An explainer video for 700 Euros is the middle class car of explainer videos. Solid work, reliable and sold millions of times. The Volkswagen among the videos. The price-performance ratio is the focus here. In order to understand why we at Videobakers can offer high-quality videos for 700 Euros, we first have to explain the individual cost centers of a video. You are impatient and want to know directly how we manage to deliver brilliant results at low prices? Just click here to find out how we manage to offer for 700 Euros what you would otherwise only get for more than double.
Explainer video prices - These factors determine the price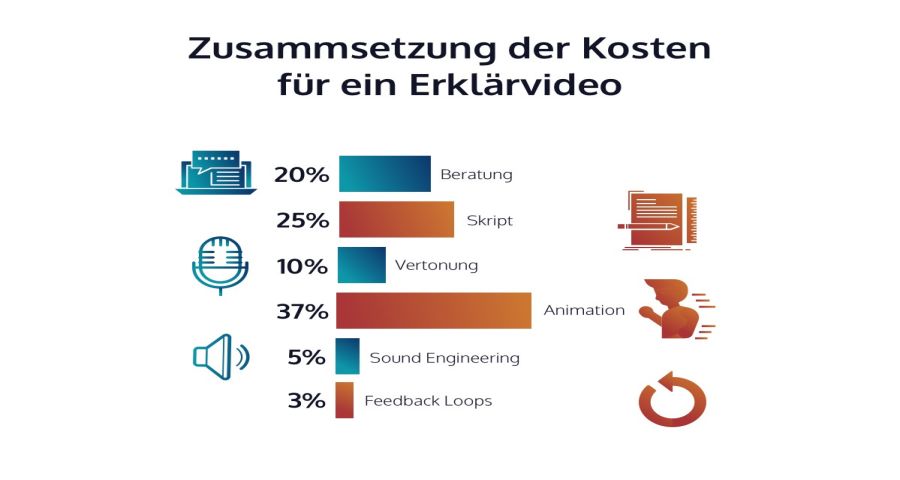 Cost Centers
An explainer video is like a clockwork, where all the cogs have to mesh perfectly. If just one gear doesn't mesh, the entire clock is wrong. No one wants a clock that doesn't work!
An explainer video, like a clock, consists of many different parts that must be perfectly coordinated with each other.
Briefing and advice
We at Videobakers know exactly how to reach your target group. But more important than us, in the beginning, is you! Because you are the master in your field and you might already have very precise ideas and wishes how your video should look like. That's why the first cog is especially important: briefing and consultation.
It is about understanding your wishes and ideas exactly. It lays the foundation for a good video. That's why we see it as our duty to listen especially well here. Because by listening well, we find out exactly what and, above all, who you want to reach with your explainer video.
Speech text and storyboard
After we have analysed the content and the target group, our creative script writers let their heads smoke to write a gripping script that will enchant your target group.
A good storyboard also belongs to the speech text.
Voice and dubbing
Not just any voice. It is important to find the right voice with the right sound for your video. We are looking in our
file
9
for a voice that gives your video that special something. Of course your opinion is very important to us. We will send you a voice selection, but it is always open to you to suggest another voice - the target group should always be kept in mind.
Anna](https://videobakers.de/voiceover/anna/) is one of our most popular voices. Her clear voice always brings a smile to the faces of our customers.
Animation
Probably the most interesting step is creating the visual content of the video. When designing, we always pick up on the 'look and feel' and corporate design. You differentiate yourself from the competition and strengthen their corporate image.
Sound Design
A video without the right sound effects is like French fries without ketchup. The sound design gives your video that certain something, the spice. Peter Ilg describes how important sound design is for a video in his
article
10
.
Corrections & Satisfaction Guarantee
Developing an explainer video is an extremely creative process. What is bound to happen in a creative process are adjustments and improvements. Of course, we have factored that in as well. Through our proven process, we've managed to increase satisfaction and minimize corrections - which is exactly why we offer the Satisfaction Guarantee at Videobakers.
After the final feedback adjustments, we breathe life into the whole thing - motion designers, toners and media designers come together to combine animation, sound design and editing.
Conclusion
But how exactly do you manage to keep the price so low? Simple. We work efficiently and according to a proven iterative procedure. We focus on the essentials. The video. We don't know any unnecessary bureaucracy at the Videobakers. Long hierarchies and endless communication channels? We don't have that. Due to our lean company organisation we are able to create a brilliant video for an unbeatable price.
By the way: Videobakers offers a special deal for Start Ups. If your start up is younger than 12 months, please let us know when making your request.
Just call us, send us a WhatsApp or Hey, just come by! We are always open for questions.
Let Videobakers create your explainer video